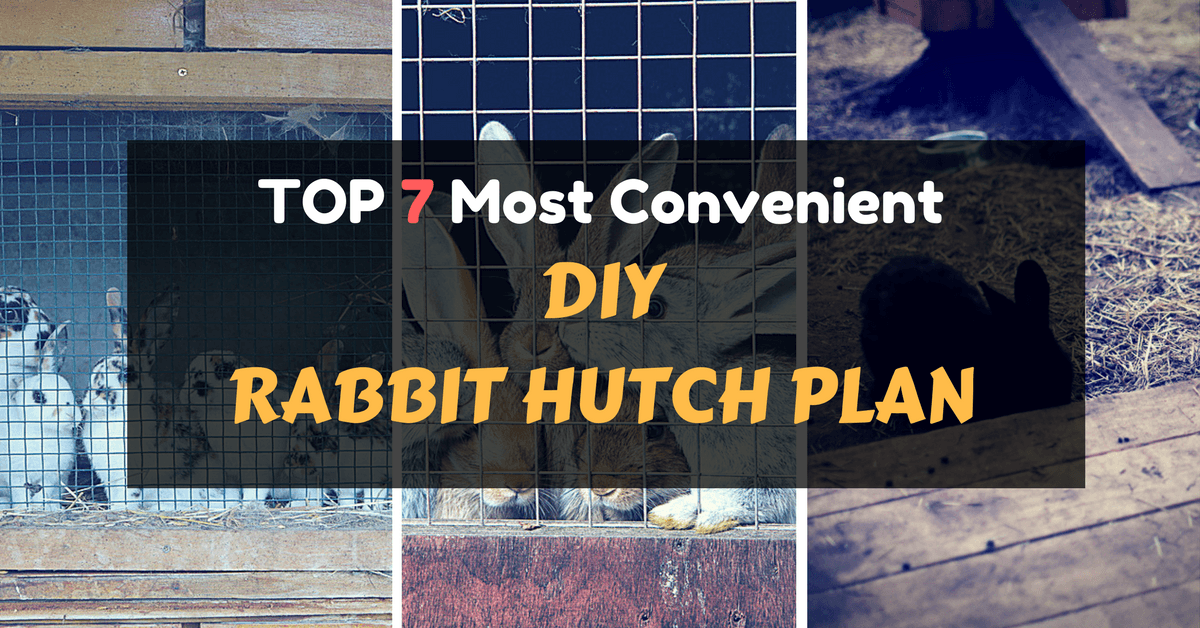 7 of the Most Convenient DIY Rabbit Hutch Plans
If you want to handle and raise rabbits, you should create a cage to serve as their protection from predators and inclement weather.
Additionally, you should regulate the dimension of your backyard hutch. You have to consider the breed of rabbit you want to grow.
In general, rabbit hutches come in different sizes and designs. So, we highly advise that you check all of your options before you begin the construction.
Moreover, you can follow our list of professional rabbit hutch plans and invest in high-quality materials you have to afford.
More...
Most Convenient DIY Rabbit Hutch Plans
DIY Rabbit Hutch Plans
Here is a list of do-it-yourself rabbit hutch plans you have to follow:
Small Rabbit Hutch
For this type of pen project, it can accommodate up to 6 small rabbits. All you have to do is to prepare four pieces of hardwood.
Then, all of them should have equal sizes of about 150 centimeters. You have to use this for the long parts of the cage.
So, you should take the long pallets of wood and cut them into a meter, which will serve as the structure of long timber. You have to prepare eight pieces of wood by slicing them into these equal parts. You can cut them using your chainsaw.
Then, secure the long parts with the short ones to create the bottom of the rabbit hutch. You can make the rest of the structure, including the cover of the cage.
Then, the four corners of the pen should have the vertical wood. Secure the wood together with the guise of the rabbit barn using a nail and other wood fasteners.
Now, you can pin down the wiring sheet on the corners and bottom of the rabbit hutch. Create a small door and connect it to the top structure. Lastly, cover everything using a wire sheet.
Firstly, you need to gather all of the things you need to begin this project. For this type of cage, you will need to prepare at least two 600 mm by 581 mm by 19 mm of the wooden frame.
Then, you should also obtain three wooden frames of 581 mm by 50 mm by 19 mm and one 1200 mm by 600 mm by 19 mm by cutting them with a saw.
Also, get 400 mm by 280 mm by 19 mm, one 70 mm by 19 mm by 1500 mm, one 1200 mm by 500 mm by 19mm, one 1200 mm by 50 mm by 19 mm of the wooden frame.
You also need to gather a mesh and solid doors, as well as a metal cover strips. Moreover, attach the entire panels together. Cover everything with wire sheet to make the house as durable as possible.
Best Latch Wooden Rabbit Hutch Plan
For creating this do-it-yourself rabbit hutch, you should begin with two two by 2-inch boards, which you should cut equally. Then, you should slice another two, three inches of about four feet tall woods.
You have to nail them together with the two by 4-foot orthogonal planes. Build three frames of the same structure. Secure the wiring sheet in two frames, which will serve as the bottom of the cage and the front door.
With the door hinges, join the frame to the lower structure so that when the cage opens, it can swing downwards.
Also, you have to make a box on the side of the hutch to provide a warm and dry place for the rabbits during cold weather conditions.
An Ideal Rabbit Hutch Building Plan
You have to make this rabbit hutch for bunnies because they are easy and convenient to build. All you need to do is a 24 by 96-inch chicken wire, a hook, and two door hinges.
Moreover, you must have two sheets of 24 by 72 by ¾ inch plywood, two one by 2-inch boards that are 6 inches long, and staples.
Then, include eight pieces of 2 by four by 8 inches of wood. Use the two by 4-inch board and slash the boards in 48 inch long sections and eight boards to 24 inches long.
You have to nail them together with the 48-inch section in an L shape. Also, you have to secure the boards together in a rectangular form. Place the small plywood sheets in the hutch to create a box. Cover the entire cage with a mesh wire.
To make this outdoor rabbit hutch, you need to prepare two two by two pieces of lumber, two pieces of 45 inch, and one 48 inch piece for frames.
Then, a piece of ½ inch plywood, which will become the flooring. A piece of ¼ inch plywood for the interior wall and twelve pieces of one by one lumber for the slats.
Also, get two pieces of 2 by two lumber for the door, a piece of ½ inch plywood, and asphalt shingles to use as roofing.
Build a frame by using the two by two lumber and connect the plywood as the flooring. Set up the interior wall and attach the slats to the cage. Remember to put a stand just below and put the sides upwards.
A Rabbit House Pen
For this DIY bunny hutch plan, it can cater up to eight rabbits. The dimension of this cage is 5 feet tall and 8 feet long. You can put support on the ground to raise it up to 2 and a half feet.
Also, you can make sections in the rabbit cage by putting panels. Then, you can cover half of the area with plywood and the other half with mesh wire so that the rabbits can go wherever they want.
Furthermore, at the bottom of the hutch, you have to place 1 and a half inches of space, which will fit the metal tray.
Remember that a lot of experts highly suggest this outdoor rabbit hutch because the bunnies can gather all of their dirt on the trap. Then, they will just fall through the mesh wire, which means that this will be easy to clean for you.
Also, you can build small slides and houses using other woods for the rabbits to jump, play, and run in their pen.
Build a Rabbit Hutch Plan With Pallets
So far, this is one of the most convenient and cheapest rabbit hutch styles for people who are on tight budget. Using wooden pallets can create same corners of the top and bottom of the cage.
Then, you should decide the dimension of the bottom and top frames so you can accommodate all of your bunnies.
So, the bottom of the hutch should have a secure frame using a mesh wire. But, you should build the top section with wooden frames to prevent wind, sunlight, and rainfall.
The back, sides, and front of the screen should be similar in size. Also, you can make the walls with just wood and the front with mesh wire so that you can monitor your rabbits.
For the front wall, you should fix a wooden frame with a few door hinges and a lock. You can keep this DIY hutch outdoors.
Conclusion
Some people may think that building a rabbit hutch is too complicated. However, you can do it with just the use of wooden frames, mesh wire, and nails. But, whatever rabbit cage you have in mind, you need to take note a few factors.
These include the ease of cleaning and feeding the rabbits. Also, you need to have a lot of space for the rabbit shelter during severe weather conditions.
You do not need to buy an expensive cage in a pet store. All you need to do is to customize a rabbit hutch that you can keep indoors or outdoors.
As you build your rabbit cage at home, you will save more money, and you can unleash your creativity. But, of course, this will only be possible with the blueprint of hutches indicated above. By following these plans, you are set to build your DIY rabbit hutch.