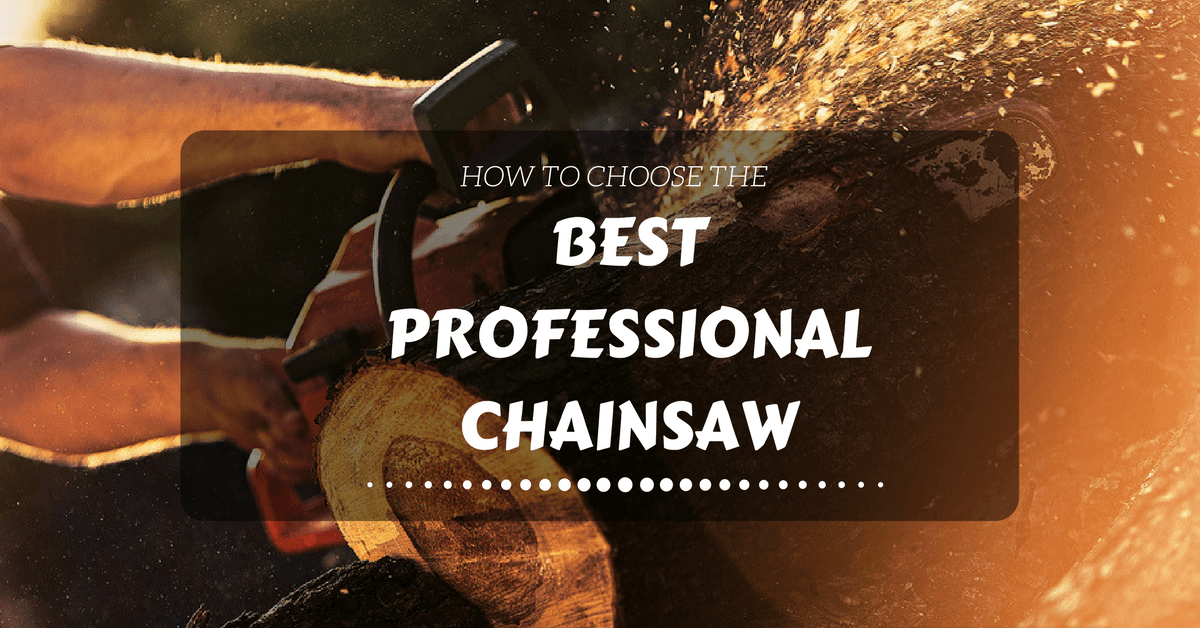 5 Best Chainsaw Reviews for Home Use and Professionals in 2020
There's no handyman without a proper chainsaw. One of the foundations of the every professional's toolbox, the chainsaw comes as a must-have for every serious handyman. The expansion of the tools market brought numerous products for homeowners, but the distinctive quality that professional tools bring surely stands up for the price and reliability. If you want to get the best chainsaw for home use and professionals, you're at the right place.
More...
**Below, you'll see more detailed reviews, but you can also click the links above to see current prices and read customer's reviews on Amazon.
How to Choose the Best Chainsaw for Home Use and Professionals
Types of Chainsaws
First of all, let's differentiate the types of chainsaws to help you get started with the selection.The classification of chainsaws by power supply is following:
Gas-powered

– big, heavy, strong, and require gas to operate.

Electric

– require the cord connection with the power outlet. The amperage defines the power of the chainsaw.

Cordless chainsaws

– lighter, easier to operate and use, require Li-Ion batteries to work.
Gas vs. Electric vs. Cordless
​The difference between these are significant, and these differences put the products into different areas of usage, as well as people who use them. No professional wood processing professional exists without both gas and electric chainsaws in his bag of tools. Depending on the type of work, the three variations of the chainsaw have their strengths and weaknesses.
Here's a table to illustrate the features, advantages, and disadvantages of chainsaw variations better:
​The difference of the power output is notable, and your preferences and requirements play a significant role here. If you handle many demanding tasks, you'll need to be physically fit and have the tools that can get you through the most difficult tasks with no hustle.
If you're more oriented to less demanding tasks, the power isn't imperative in your choosing. Pick according to your preferences and the duties you perform. For example, handling big and bulky trees in the forest surrounding require high-power, big chainsaw, with mobility and efficient oiling system – the gas-powered chainsaw.
​Top Handle vs. Rear Handle Chainsaws
​The second classification in chainsaw models refers to the handles. Currently, there are top handle and rear handle chainsaws available. The obvious difference is in the looks, but the real difference between the two lies in the maneuverability and ease of use.
The top handle chainsaw has only one handle, and it's a bit tougher to use and maneuver, and less versatile. These chainsaws allow the user to control the balance, and provide better precision, making them ideal for professional tree care and working on heights. A skilled and strong handyman can wield and use this chainsaw with one hand.
The rear handle chainsaw is more versatile and easier to use because of the additional handle on the rear. This handle usually contains the power mechanism and allows more grip and security. On the other hand, these models aren't suitable for precise working because of the improper balance and design that doesn't allow one-hand usage. Over 90% of work that involves chainsaws refers to the rear handle chainsaw.
How to Choose the Best Chainsaw For You
When buying a chainsaw, ask yourself the following:
1. What will you use the chainsaw for?
If you'll cut medium-to-big trees, do forest work and need to stay mobile, you'll need a strong, gas-powered chainsaw. On the contrary, everything lighter than that can be done with an electric model.
2. How often will you use the chainsaw?
The gas model needs regular maintenance and resources to run. If you don't use it often, you should consider the electric model.
3. What types of trees you usually cut?
Trees like oak, hard maple, and hickory are very tough and require high power to be cut down. You won't be able to do that with an electric chainsaw.
4. How long bar you want?
If you cut some big pieces of wood, you won't be able to reach everything with a shorter bar. The sizes start from 8"
The answers to the questions above will get you closer to the best-fitting chainsaw.
Chainsaw Features to Consider
​Here are the features you need to look for in a chainsaw:
Functional design

– you need to be sure that the chainsaw will be comfortable to hold, well-balanced, and take special care and conduct investigation if you're left-handed.

Weight

– A heavy chainsaw will be difficult to maneuver and handle. Know your strength and chose accordingly.

The ease of maintenance

– The air filter, spark plug and the chain should be easily accessible. Does it require many tools to replace the chain or clean debris? Is it easy to oil it up?

Safety

– Chain brake, low-kickback chains and bars, and automatic oiler are features to look for.

Anti-Vibration Handle

– with a shock absorber in the handle, you'll saw longer without fatigue.

Side-Mounted Tension Adjustment

– Very useful and practical, enables setting tension on the go.

S

pring-Assist Starting

– This mechanism allows easier start if you're getting a gas chainsaw.
Current Popular Chainsaws on the Market – Our Reviews
Here's the today's first chainsaw, the DEWALT DCCS690H1. This one is battery-powered and brings a 40V of strength, 16" bar and a bunch of features. The chainsaw is 36 inches long, 9.3 inches wide, and 9.4 inches high and weighs around 19 pounds.
As you can see, pretty serious for a battery-powered device. The battery itself is Lithium Ion with a capacity of 6AH, which is quite impressive. The saw lasted our entire testing on a single charge.
The chainsaw is yellow with black accents and looks sturdy, durable, and robust, designed with rear and top handle for maximum comfort and maneuverability. The brushless motor is quite strong and surprisingly quiet. If you come from the gas chainsaw experience, this will be a big surprise for you; first, no pulling to start it, just press the button. Next, it's so quiet, and yet it cuts through wood with ease!
On our tests, this amazing saw cut everything except bigger oak with ease and in mere seconds. The teeth are sharp and well-spread over the low kickback chain. The bar is also low kickback, and you have a chain brake near the start mechanism, so it's really convenient. Also, there are an auto-oiling system, tool-free chain tension system, and variable speed trigger.
---
Very powerful for a battery-powered saw
Great battery life
Cuts like a gas-powered saw
Low noise
---
Pricey
Battery charges slowly
We're covering all types of chainsaws in this buying guide, so here we have a top handle gas powered pro grade chainsaw from Tanaka, which comes as a counterpart to expensive solutions from STIHL. The saw is well-designed, works like a clock, and pulls off fantastic performance when used with its primary intention.
The saw is 15.4 inches long, 11.8 inches high, and 11.2 inches wide, and weighs around 12.5 pounds. The top handle design provides superior balance and allows precise working, especially on large heights and on objects. The engine has 32.2cc of power, and it's equipped with a half throttle choke and purge primer bulb, which enables unbelievably easy startup.
The saw performs as you can expect from a gas-powered chainsaw – it goes through wood like a knife through butter. Every wood we put up against it didn't stand a chance. This is one of the cheapest professional chainsaws that you can get, and for the price, you get an automatic oiling, side-mounted chain tension system, a sprocket nose bar and Oregon chain, and 7-year consumer warranty.
---
Perfect tool for professionals that work on heights
Powerful
Amazing start system
Affordable
---
Not easy to set up if you're not skilled
BatteryGreenWorks is a relatively new brand on the tool market, and they are paying their way with quality products that perform well. They cover various submarkets and design their products with intuition and latest trends.
The GCS80420 is a standard sized chainsaw from their assembly line, with an intuitive solution for power supply. The battery that comes with this chainsaw can easily be extracted and used as a power source for the lawn mower of the same product line from GreenWorks.
The battery itself has 2AH capacity and is advertised to withstand up to 150 cuts on 80V of power. That's equivalent to 45cc gas-powered engine – some serious power and energy! The chainsaw itself is large (32.4 inches in length, 9.7 in height, and 7.6 in width) yet surprisingly light – only 10.8 pounds of weight.
For the cutting performance – GSC80420 cuts like a beast. Our test model cut through every piece of lumber we used without any problems. For the price you pay for it, GCS08420 brings a very efficient and useful electronic chain brake, a charger that refills the battery in around 40 minutes, very low vibrations and fumes.
---
Easy to set up and operate
Powerful
---
Run time is short. The 30-minute advertised run period gets shorter if you cut through thicker, harder wood.
Our buying guide wouldn't be complete without a proper corded electric chainsaw. For that matter, we selected a 16-inch model from WORX, the affordable yet extremely popular chainsaw due to its versatility, features that it brings, and incredible price.
Codenamed WG303.1 (who gives them these names?), this chainsaw comes in a sturdy orange casing made out of plastic. It's very comfortable to hold and pretty easy to use. Weighing 11 pounds, its weight is evenly distributed and with 8.07"H/19.69"W/14.57"L it feels pretty ergonomic.
Speaking of the specs, it packs 14.5 amp and 3.5 horsepower motor that will pleasantly surprise you from the moment you turn it on. Those will give you a significant power that will get you through any type of yard work or light woodworking without any problems.
Cool to mention is the automatic oiling system that has a see-through container, so you'll always know how you stand on oil supply. There's also a very handy and easy-to-use tension mechanism, set under a large knob for you to twist.
Safety is on par with the industry standards, with the automatic chain brake and double safety trigger for starting.
The downside of corded tools is, of course, the cord and the mechanism that connects the tail of the chainsaw with the power outlet. It can get stuck or tangle if you don't care enough.
All in all, this is an excellent electric corded chainsaw, which will provide you with enough power to deal with everything in yard work, or medium woodworking, for an amazing price.
---
Affordable
Strong
Safe
Tool-less system for chain tension
---
Cable can get tangled or stuck, detach from the outlet
Oil expenditure and possible leaks sometimes
Here we have a classic-looking, loud and powerful chainsaw like we expect it to be when we talk about professional carpentry and woodworking. Husqvarna is a big brand in the world of tools, and their products stand for durability, performance, and quality. Their model 450, an 18-incher, is the globally available tool worthy of a professional woodworker, and even more.
From the first sight, you'll notice the size and bright orange color, somewhat mandatory in the professional woodworking circles. The saw is of medium size – 33.5'' H / 9" W / 11" H and weighs around 13.5 pounds.
It features an 18-inch bar with the finest Oregon chain, the latest generation of Husqvarna engine named X-Torq for the reduced exhaust emissions and fuel efficiency, and 3.2 horsepower (50cc) on 2400 W of raw strength.
These specs mean that at 13000 RPM, this saw will go through any wood effortlessly and quickly just like it was in our tests. The anti-vibration system is good, but you can't expect no vibration from a machine with this power. The Smart Start feature is there to help you start it up without much hustle, and the centrifugal air cleaning system works very well (we are yet to open it and check it out).
The chain brake works on inertia, but we didn't have the chance to actually see it doing its job because we didn't encounter any stoppages.
---
Powerful
Easy to start
Inertia activated chain brake
Between two and four-year warranty
Low emissions
---
Complicated manual (Expected)
Cheap plastic on some parts
The Best Chainsaw for Home Use and Professionals At The Moment Is…
…definitely the one that suits your preferences and needs. But, with all the need of the professional modern woodworker covered, and price to value/efficiency ratio, the Husqvarna 450 18-Inch gas powered chainsaw is a choice to be reckoned with.
Even though all other models we tested have their own advantages and features to be proud of, the true professional should have a fine, strong, and reliable chainsaw, which Husqvarna 450 18-Inch truly is. You won't be disappointed if you choose this one.
An honorable mention goes to WORX 16-Inch 14.5 Amp Electric Chainsaw as an ideal (corded, though) budget-friendly variation.