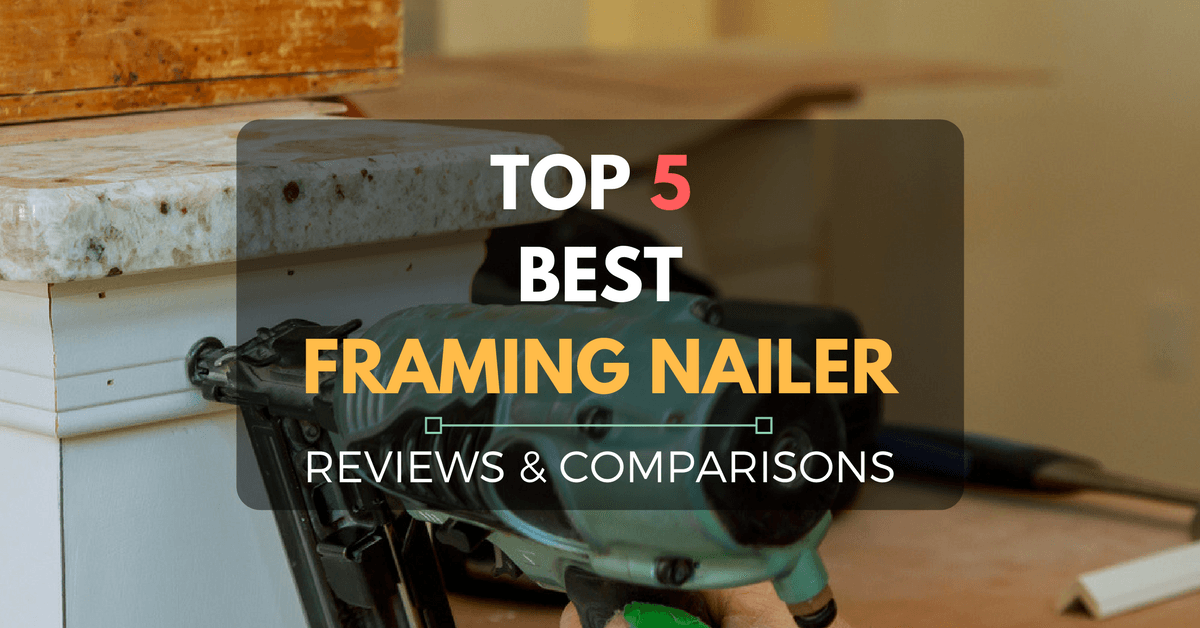 Top 5 Best Framing Nailer 2020 Reviews (The Handyman's Guide)
If you do a lot of carpentry work around the house, you know how difficult it can be to nail some things down – both figuratively and literally. Sometimes you're just not strong enough to do it; sometimes you have to stick a nail into a weird, inaccessible place; and sometimes the hammer or the nail just won't "cooperate" with you. The solution for most of these problems for me was a framing nail gun. So I set on the mission to find the best framing nailer currently on the market.
More...
**Below, you'll see more detailed reviews, but you can also click the links above to see current prices and read customer's reviews on Amazon.
In Search for the Best Framing Nailer of 2019 - 2020 Reviews
What are Framing Nailers Used For?
Nail guns, in general, are designed to make carpentry easier, removing the need to use a hammer, making the job faster and safer. Framing nailers are a type of nail gun made for use in quick, high-powered projects, and are not intended for precision work.
To find the right power nailer for your projects, you're going to have to consider a few things first. Here's a list of stuff you should look for in a framing nailer.
The Power Source
Having your nail gun running smoothly is important. There are a few different options to consider here, but the most commonly used are:
Pneumatic Nail Guns – These nailers use an air compressor for power, and must remain connected with a cord. Pneumatic nailers apply consistent force and can be used without recharging for extended periods, but the cord can be limiting, and if you don't have an air compressor already you have to buy one. Air compressors can be rather expensive, and you need to consider whether its specifications meet the needs of your nailer. This is usually listed in PSI (pounds per square inch) and CMF (cubic feet per minute).
Learn more about Pneumatic Nail Guns on this page.
Cordless Nail Guns – If you need something portable and don't plan on using your nailer regularly, this is what you want. These nailers use batteries or fuel for power. They are less cumbersome and suited for use in small or hard-to-reach places. The downside is that they can't be used for extended periods of time as the batteries or fuel run out. Batteries need to be recharged, and that can take time but is relatively inexpensive. Fuel-powered nailers only need to be refilled, and they're ready for use again within minutes, but fuel can be expensive in the long run.
​​​​​​The short of it is - if you intend on doing constant, heavy-duty work, take a pneumatic nailer – otherwise, choose a cordless one.
The Nail Magazine
An important aspect of a nail gun is the magazine, as it can limit your work in more ways than one. There are two main varieties:
Stick Magazine – Using nails that come in long strips, they are usually mounted on the front, offering better weight balance at the cost of a smaller magazine when compared to coil-type ones. They are typically most useful when you're doing a small amount of work, as you're not concerned with reloading.
Coil Magazine – These magazines use nails that come in coiled strings, joined with wires. Usually mounted on the front, they are much shorter but also wider than a stick magazine and heavier. If you're doing heavy-duty work, they are better as you need to reload less often but can be cumbersome. Due to the shape, they can fit in spaces where stick magazines can't – but that can go the other way as well.
Other Aspects to Consider
Nail Types – You should look for a nail gun that uses round-head nails if you're doing work around the house. According to current building codes, renovations need to be done with round-head nails, and you might be fined if you use clipped-head nails.
Types of Triggers – Two trigger types are commonly used: bump-fire and single-fire. The former requires you to manually pull them for each nail you wish to fire while pressing the tip against the surface. With the latter, you only need to hold the trigger and bump the tip against the surface to fire.
Single-fire triggers offer more finesse and precision, while bump-fire triggers are designed for speed. Depending on the type of work you want to get done, you might need one, the other, or both.
Weight and Comfort - Lighter nailers are naturally easier to use, but they might offer less power or less operational time. You do need to get a nail gun that you find comfortable to use, especially if you intend to work for long periods or in areas that are difficult to access. You certainly don't want a nailer with a bad grip or one that's too heavy for you.
Depth Adjustment – This is a feature present on some nailers that allows you to adjust how deep the nails will penetrate into the surface. Pretty much a must if you're working with surfaces of variable thickness and hardness.
Quick Jam Clearance – Nailers don't jam often, but when they do it can be a real pain to take care of, and might even require you to take it to be serviced. Getting a nail gun with a quick jam clearance feature can save you time.
Swiveling Air Connectors – If you're using a pneumatic nailer, its cord might cause trouble during work. A swiveling air connector will stop the cord from tangling and limiting your movement.
Protective Guards – A guard helps keep you safe from debris that might fly around, especially when using a bump-fire nail gun. That doesn't mean you should forgo regular protective gear though.
Air Compressor – A clear must if you're using a pneumatic nailer, as it won't work otherwise. Pick one with adequate specs that fit your nailer, as well as a decently sized tank.
The 5 Best Framing Nailers I've Tested
Here is a selection of a few decent to great framing nailers that you might want to look at if you still don't know what to buy.
Here we have a pneumatic nailer that has the useful ability to switch between a single-firing trigger or a contact-firing one, making it helpful for a wide variety of situations, not only for framing.
However, features that make it useful as a framing nailer are the 21-degree full-head and the 360-degree adjustable exhaust port. This allows for high maneuverability and comfort when working. In addition to that, it has a spike tip, making it perfect for toenailing. The nail sizes it can work with range from 2 inches to 3.5 inches, and firing depth is adjustable as well.
It's also a decently lightweight nail gun at only around 9 pounds, but still a durable and powerful piece of tech. When you also add to that a rather excellent grip, this nailer is quite comfortable to use.
There are some things I don't like about this one though. First of all, it has a tendency to leak air out of the nose, which can be annoying and cause jams. Jams happen anyway, though. It also lacks any safety guard, and the plastic from the nails it uses can fly everywhere, occasionally hitting you – some of this is due to the heavy recoil that it has compared to similar nail guns.
---
Depth adjustment feature
Can switch between single fire and contact fire
Adjustable exhaust port
Good for toenailing
Fairly light and powerful
---
Doesn't have any safety guards
Tends to jam a bit
Leaks air out of the nose
Heavy recoil compared to similar models
This is a pneumatic nailer, which means you'll need an air tank to use it – despite the product page claiming the power source is "cordless-electric". It's made for use with round-head nails and takes nails from 1.5 to 3.5 inches. The stick magazine can hold up to 60.
It offers a few non-standard features, the first being the quick-change nosepiece, making it able to use both plastic-collated and metal-connector nails. Also, it has a depth control feature, allowing you to control the firing depth easily, which is something I always find useful.
As far as comfort goes, this nail gun is relatively light at only around 9 pounds and has an excellent rubber grip that fits well in my hand. It's also relatively strong for its size, with 1050 inch-pounds of driving power.
However, it sorely lacks a jam clearance feature. It tends to jam quite a bit, especially when used in the upside-down position.
The sequential trigger it has also seemed prone to failing, as it sometimes just wouldn't fire nails, even when the gun was not jammed, and sometimes it would fire multiple nails at once.
---
Very powerful for its size
Comfortable to use and handle
Has a nifty depth control feature
Quick change nosepiece
---
Isn't cordless as stated
Tends to jam a lot
The trigger is prone to malfunctions
Does not come with an air connector
Here we have a rather lightweight, 7.5-pound pneumatic nail gun from Hitachi, with a host of different features. For starters, it can switch between firing on contact and single-fire modes easily, with the flip of a switch.
There is also the dial on the side of the machine that makes for easy adjustment of firing depth. It uses 3.5-inch plastic-collated nails and still has decent power despite being rather small and light. Durable as well, as I dropped it a few times and nothing broke.
Another useful feature is the pointed nose, which makes for easy toe nailing – essential for framing.
One of the strange problems this gun has is oil retention. Namely, most nail guns tend to just pass any extra oil through the system, but that's not the case here, which leads to constant jamming. However, if you go light on the oil it just gums up and jams anyway. So it's hard to get the oiling right.
It's also a bit on the expensive side compared to similar nailers.
---
Durable and doesn't break
Light and comfortable to use
Easy switching between single fire and bumper fire modes
Simple adjustment of the firing depth
Pointed nose makes toenailing easy to do
---
Jams a lot for various reasons
Has a weird oil retention problem
Doesn't work with many different nail types
Expensive for what it offers
This is a cordless nail gun powered by a lithium-ion battery that comes with the nailer, as does a charger. The battery requires an hour to recharge fully, and the manufacturer claims that a full charge is enough for driving up to 6000 nails. Included in the deal are a carrying case, safety glasses as well as a 5/32-inch hex wrench.
Even with the battery in, this nailer is rather light – only 7.25 pounds. The power is decent, and it even has adjustable firing depth. Fit for use with nails from 2 to 3.5 inches. However it does have some trouble with nails above 3 inches, and it holds a rather small amount of nails.
The problems with this product are more external than anything else. For starters, it's costly for what it offers. Moreover, it uses a fuel cell that must be bought separately for the nailer to work and it's rather expensive itself. To finish it off, it can only work with Paslode-made nails, no other brands. All of this is very limiting and has to be considered when purchasing this nailer.
It's also single-fire only, and it seems impossible to convert to be bumper-fire with add-ons of any kind.
---
Portable and lightweight
Easy and comfortable to use
Works well and doesn't jam
Has decent power
Comes with a lot of extras
---
Very expensive
Doesn't come with the necessary fuel cell
Only works with Paslode nails
Single-fire only
This is a pneumatic nailer that uses round-head 2-inch to 3.5-inch plastic-collated nails. It has features like adjustable firing depth, both single-fire and bumper-fire modes, an adjustable exhaust, and a large stick magazine that holds up to 64 nails.
It is rather large and heavy, weighing almost 15 pounds, but packs a lot of strength at an operating pressure of 70 to 120 PSI. Still, that doesn't quite justify how big and bulky it is, as there are nailers of similar power that are far smaller and lighter.
As you can imagine, all that weight and bulk makes it rather difficult to use, especially, for example, when standing on a ladder.
Not fitted for toenailing either, as the head is not suited for it.
However, the nail gun is rather durable and almost completely resistant to jamming and other similar problems that plague other nailers.
It's also rather affordable for what it offers.
---
Affordable
Has a decent amount of power
Adjustable nail firing depth
Adjustable exhaust
Can work both as single-fire and bumper-fire
Durable and reliable, doesn't jam
---
Too bulky and heavy for what it offers
Not fit for toenailing
Uncomfortable to use for long periods
What I Would Use
From all the nailers presented here, my tool of choice is most certainly the Freeman PFR2190, as it is decently priced and very powerful for its weight. It has pretty much all the features you would want in a framing nailer, at a decent price, which makes up for its downsides. The heavy recoil can be a bit of pain, but it can be worked around.
All in all, that is my pick, and I hope this article helped you decide on your purchase.