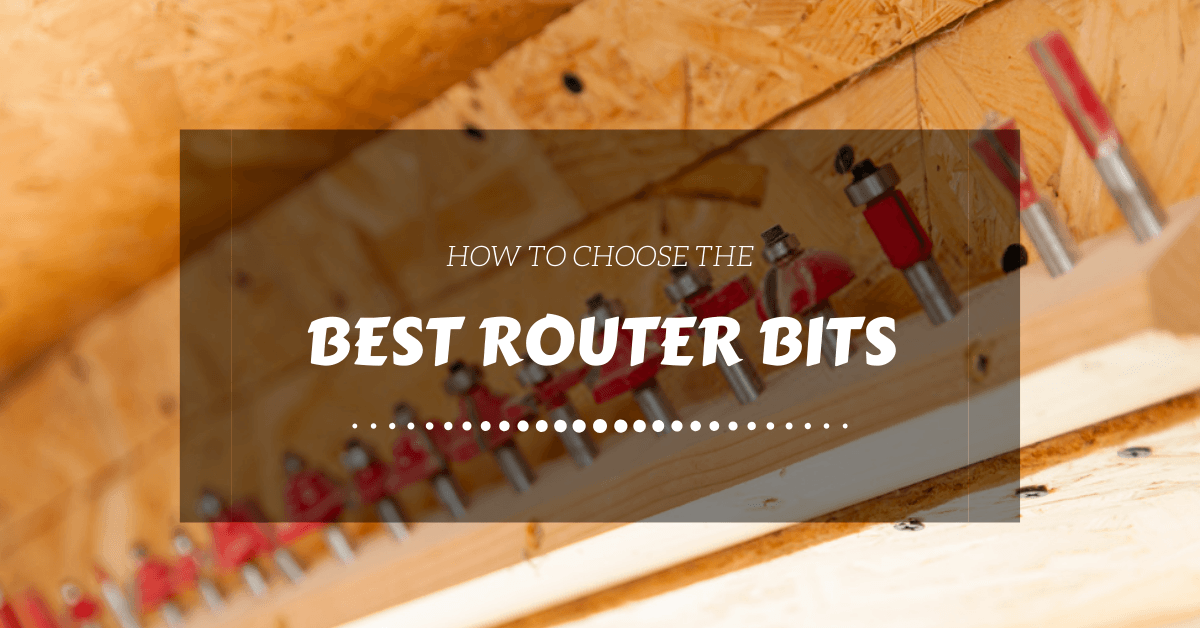 Top 5 Best Router Bits 2020 Review
When you have to select the best router bits, the task can get a bit challenging for sure. Not only does the router seem to be a tool that can be intimidating if you have no experience, but there are also so many options of the router bits to choose from.
However, if you know the roles and application of the standard router bits, the different materials, and the top brands, you should have a less tedious time picking a set for your workshop.
More...
**Below, you'll see more detailed reviews, but you can also click the links above to see current prices and read customer's reviews on Amazon.
Top 5 Best Router Bits 2020 Review
12 Essential Types of Router Bits
There are hundreds of router bits out there, but there are some essential ones that every woodworking workshop must have as they are ideal for most routing projects.
While some of them will be ideal for a specific purpose, in many cases you have to use more than one to create complex shapes. Here are 12 of the essential router bits to have in the workshop.
1. Edge Beading Bit

As the name implies, the edge beading router is for shaping the edges of pieces such as tabletops, chair arms, shelves and any other places that you need to enhance the edge.
This router bit is similar to the round over bit to some extent because it will also apply a rounded shape to the edge of the workpiece. Edge beading bits can cut a quarter or half circle profile which is what woodworkers refer to as a bead.
2. Ogee Bit
The Roman ogee bit is among the most popular edge shaping bits, and you will find it in almost all woodworking workshops as it is part of most wood router bit sets.

This bit will create a compound, s-shaped profile and it comes in various variations. But the most common ogee bits are those with points in the middle of the profile or shoulders on the edges. And like most other edge bits they will come with a bearing tip.
3. Glue Joint Bit
The glue joint router bit is a handy type of bit whose primary role is to create a joint in wood to make it possible to connect one piece to the other to form a larger panel.

The most significant advantage of the glue joint bit over other joining systems such as dowels and biscuits is that it creates a large glue area for more adhesion.
4. Rabbet Bit
It is possible to cut a rabbet with a table saw when using a dado blade or even with a straight cutting bit. However, there is also rabbet router bit which is for this specific purpose.

In definition, a rabbet is just a dado but on the edge of the workpiece. The rabbet router bit will ride along the edge of your stock, and in most instances, it will have a bearing tip.
5. Raised Panel Bit
There are many router bit types out there, but some like the raised panel are for specific purposes. This router bit is for creating a profiled edge on the smaller door's panel.

These router bits will often be used with the stile bits to create door panels.
6. Stile and Rail Bit
Stile and rail bits will also come in handy when making frame assemblies. They are bit types that are used to make frames and the frame assemblies for use in small doors and cabinetry.

And besides, from cutting the panel slot, these bits can also make some decorative profile into the workpiece.
7. Dovetail Bit
Among the different router bits that you can get the dovetail is among the most famous ones and also one of those that you are likely to use a lot. And it is meant to create tails for the dovetail joinery.

However, you can also use a dovetail bit to make rabbets and tapered dadoes. This router bit will feature a flat bottom that has some angled sides which will be wider at the base.
8. Round Over Bit
Round over bits are part of the edge forming router bit types. The bit is handy for complex design tasks, and they will in most cases be used for creating smooth, even curves to create a rounded edge of a particular radius on the workpiece.

This bit has a ball bearing for controlling the width of the cut, and it will be useful for shaping the edges of bookshelves, tabletops and any other place where you would like to round over a sharp edge for decorative purposes.
9. Flush Trim Bit
A flush trim is a must have if you tend to work with wood veneer or plastic laminate a lot. The flush trim bit is a straight-cutting bit whose main aim is to trim any overhanging material flush to the workpiece.

It uses a ball-bearing pilot which is what makes it ideal for flush cutting and it will be a handy bit when making tabletops, cabinet, and drawer faces.
10. Cove Bit
The cove bits are in essence the opposite of the round over bit, and instead of just rounding over the edge of the stock it also cuts a concave radius on the same edge.

The result that you get when using the cove bit is a decorative edge that will enhance the appearance of a cabinet door or furniture legs.
11. Chamfer Bit
A chamfer bit is a kind that you use to make a 45-degree cut on a square edge of a workpiece. These bits are very versatile, and they can create various chamfer size depending on the size of the cut.

And like the beading bit, some chamfer router bits will also have a bearing tip that will ride along the edge of the workpiece.
12. Carbide Tipped Bit
Straight carbide tipped bits are what makes your router one of the most versatile tools in the workshop. And they are also one of those that you will use most.
These bits will be for cutting square bottomed straight grooves, and they will come in various diameters and lengths. But the most common and useful ones are 1/4, 1/2, and 3/4 diameter bits.
The straight carbide tipped bit will be useful for cutting dadoes, rabbets, and grooves in plywood when making furniture. However, this is a non-piloted bit, and so you will need a router bit guide to get straight and precise cuts.
Current Popular Chainsaws on the Market – Our Reviews
Freud is famous for its technologically advanced and high-quality bits and their 91-100 model is at the top of our router bit reviews.
Despite this 1/2-inch shank bit set also being one of the priciest on our reviews, it is still one of the best router bits sets out there.
Each of the 13 router bits on the set features TiCo (titanium and carbide) tip which is a high-quality material, tri-metal blazing and they also have an anti-kickback design.
The computer-balanced bits offer vibration and chatter-free operation even when operating at high speeds. And each of the router bits come with a high shear angle to produce fewer tear outs and minimal chatter marks.
This 13-piece set might not come with the most router bits but what you will love about it is that it comes with the most commonly used bits.
---
Long-lasting micrograin TiCo tips
Unique shadow box case
Cut a variety of materials
Computer balanced bits for vibration and chatter-free operation
High shear angle for fewer tear-outs and minimal chatter marks
---
Case quality is not the best.
For those who are new to the job of woodworking and require a router that is cheap and delivers great performance, this tool would be an amazing choice for them. What we love about the product here is that the number of pieces that it has is probably a bit higher than some other products that we have on the list.
Although it is cheap, the bits that are present in the sets are made with very high-quality standards. The carbide tip construction that is used by the sets makes it pretty durable as well. When it comes to the vibrations of the bits, the starter bits have got ½ inch shanks which will make sure that the tear outs don't happen during the use.
However, one thing might bother you in here is that they don't necessarily last that long. You will also get a wooden set that provides proper storage as well.
---
There are about 15 pieces of router bits in the set which is quite a high number when compared to some others on the list.
The wooden storage box is pretty classy and provides storage options for the pieces.
The set is pretty cheap and can be afforded by anyone.
The carbide tips used for the construction make it very durable and long-lasting.
---
This product is weak and dull (It means it leaves dust after use)
With a total of 24 pieces, this router bit set has the most pieces on our list but the most impressive element about it is that it is also one of the cheapest on our reviews.

The kit comes with almost every bit that you can possibly need for your projects, and they are universal 1/4-inch shank bits that will fit all routers.

Despite their affordable price tag, the bits are also relatively durable thanks to their carbide tips. And they will come in a sturdy wooden box that makes them easy to organize, store and transport.

Just like the MLCS 8377, this router bit is a great choice for someone that is just starting out.
---
Durable carbide tipped router bits
24-piece kit for multipurpose use
Comes in a sturdy wooden case
Highly affordable for a 24-piece set
---
Not ideal for heavy duty use
Although the number of router bits and pieces that you will find in here is probably higher than the other options that we have on the list, the quality can be a little disappointing for sure. However, this set of router bits can be considered as the best one for the people who are consistently looking forward to increasing the router capability range.
Also, if you have a wish to just experiment with the unique and new profiles of the router bits, then this is the choice for you because there are many different router bits that you will find in here.
The price of the product is not that high as well, considering that you will get many router bits in just a single set. Due to the machine-quality YG8 tungsten used in the construction of these router bits along with the best quality carbide tips, the blades are pretty easy to heat and they will last longer than the other products that we have in here.
You will not really have to sharpen these bits most of the times as well. However, one of the most important reasons why people like this kit is because of the large number of items that they get in here. This can be a perfect choice for someone who wants to increase the routing capabilities.
---
There are about 80 different router bits that have got different profiles for people to choose.
The price of the router bits set is not that high and can be afforded by anyone.
The aluminum storage box provided will be able to house these router bits easily.
There are many different sizes of bearings with variable diameters.
---
This bits of this tool is not perfect for the use
It is hard to get a similar quality 15-piece router bit set that is cheaper than the Hiltex 10100. And so it is a great pick for any woodworkers looking for something that offers excellent value for money.

The set has all the essential bits that you will need for most of your routing projects and they come with the universal 1/4-inch shank to ensures they can work with any router

Each of the router bits has precisely machined and sharp YG8 tungsten carbide blades that will always deliver clean and accurate cuts on any wood type.

Also, the hardened solid steel alloy construction provides durability and longevity for the bits and they also have an enclosed bearing roller to provide smooth and aligned routing.

This router bit set also comes with a wooden index case that will make them easy to store and organize to minimize the likelihood of losing any of the bits.
---
Precisely machined tungsten carbide blades
Durable alloy steel overall construction
Universal 1/4-inch shanks to fit all routers
Highly affordable bit set
Comes with a sturdy wooden index case
---
Not as sharp or durable as the more expensive router bit sets
Router Bits Buyer's Guide
Now that you have seen a few of the router bits on the market, you should probably have a think about what you really need to get out of a router bit set, so that you can decide which ones are suitable for you. If you are a professional, you may already know what you need from your router, but otherwise, there are a few things to keep in mind.

From the materials they are made from, to the wood they can cut through, there are plenty of things to know about a router bit before you buy. To make sure they can survive whatever pressure you put them through, and hopefully not need replacing for a long time, it is important to know what you are looking for. These tips should help you choose which router bits to buy.
Which Materials are Best?
The feature to think about when buying a set of router bits is what material they are constructed from. By their very nature, router bits need to be sharp enough to cut through wood, which can often mean they are brittle and easy to wear down. The most efficient router bits need to be able to handle high-speed routers without becoming blunt or damaged by the wood.

Different materials are used in the manufacture of router bits and it is important to get the right balance of efficiency and durability. Generally, there are three types of router bit available. These are carbide, carbide tipped, and high-speed steel.
Usually, carpenters will choose a solid carbide router bit if they want it to be durable and robust. These are not the most effective, as they will not be as sharp and precise as others, but they should be able to cut through harder woods at higher speeds without damage.

Carbide tipped router bits are more efficient. These can maintain a sharper edge than solid carbide, which is handy when making precise engravings in harder woods. Like solid carbide, they should withstand the high intensity and heavy speeds, but they also come at a higher price due to their better precision.

Finally, the budget option is high-speed steel. These router tips are not as durable as carbide, and not as sharp and precise as carbide-tipped bits, but they should be good enough for occasional work with softer woods. If woodwork is an occasional hobby, or you think you will only be doing light jobs, these tips can save you a bit of money. However, do not buy them if you are going to lose them frequently as they may not last very long.
What Projects are you Working On?
Of course, the most important thing to remember when it comes to purchasing any tool is what sort of project are you planning to use it on. Different types of wood will require different types of router bit, so it is vital that you buy appropriately. For example, if you are working with hardwood or even metal, you will want a carbide bit to be able to carve into it. The nature of the project will then determine whether you need a precise carbide tip or just solid carbide.

If you are new to the world of routers and looking to buy your first set, it might not be worth spending too much money. If you don't have much experience, there is a reasonable chance you are going to break your first router bit quite quickly. This isn't something to worry about, but there is no point in buying something fancy. You are better off honing your skills with a cheaper router bit first.
How Frequently do you use your Router?
Finally, you should take into account how frequently you use your router. This makes a big difference because of a couple of different factors. Firstly, if you don't use it very often, you can probably buy some more brittle router bits, as they won't suffer from overuse. Strong carbide bits are great in terms of durability, but if they are just for occasional use, you can make do with cheaper materials.

If you use your router frequently, you may want to invest in more durable bits, which won't get damaged. Also, you should lookout for a good storage box if you are buying a set. A strong and sturdy wooden case will help you keep your bits organized for frequent use, and safe from harm if you need to travel with them. Router bits can get expensive, so its best to look after them if you use them regularly.
Expert Tip
Router bits are known to get blunt and break under high speeds and heat exposure. Durability is important, so it is worth investing in bits made from high-quality materials.
Did You Know?
Carbide tipped router bits typically last up to 50% longer than those which are made from a weaker steel, and they can cut through harder materials as well.