16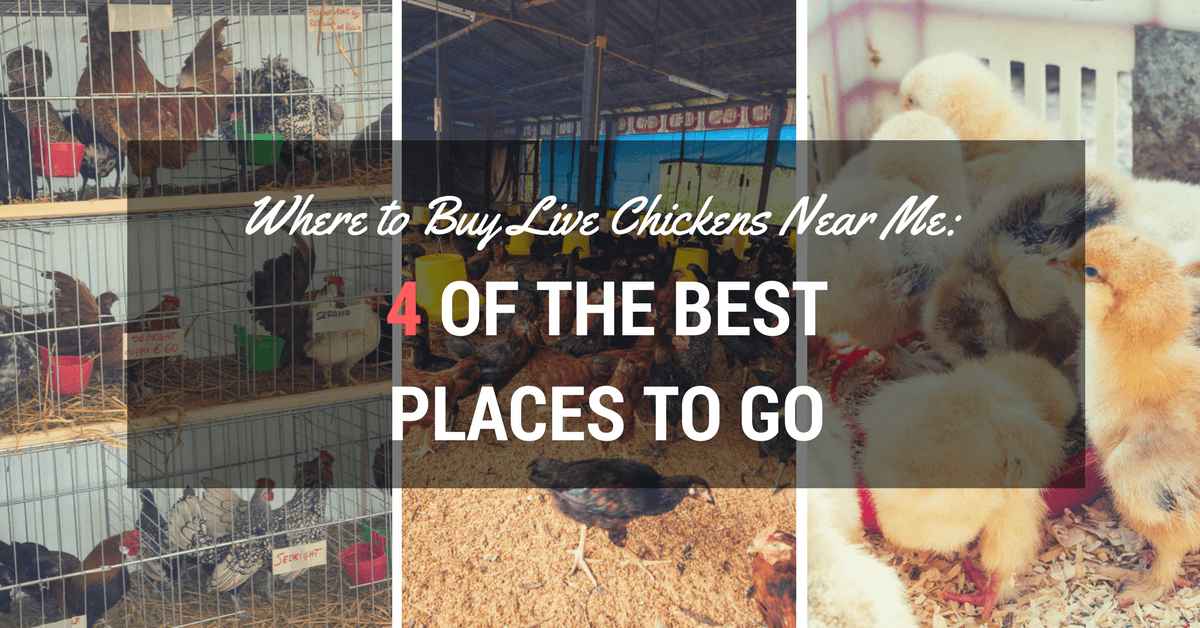 Where to Buy Live Chickens Near Me: 4 of the Best Places to Go
For beginners in raising backyard chicken, you may ask yourself: where to buy live chickens near me? But, you do not have to panic. Whether you want to add chickens to your existing flock or just load a chicken coop, you can easily do that. Finding the source of your chickens may be quite challenging. Luckily, here are some of the places to check out to grow your flock.
Save 70.0% on select products from Weepong with promo code 70HFB4FQ, through 5/30 while supplies last.
More...
Where to Buy Live Chickens Near Me: 4 of the Best Places to Go
Where to Buy Live Chickens
Here are some of the top sites to purchase live and healthy chickens for your backyard:
Hatcheries
Did you know that with just one click on your computer, you can buy chickens online from a hatchery so quickly? There are so many hatcheries that can produce fowls for you. But, it is still ideal to order from the nearest hatcheries in your town rather than purchase them online.
The perfect reason to buy to the closest hatchery is to select the rarest and the most endangered breeds. If you want to keep or raise chickens for laying eggs or pets, then getting them from hatcheries will be affordable.
But, during the first months of the year, you may expect that there are minimum orders of at least 15 chickens and even more. Also, during spring and winter, it will be hard to ship chicks because they cannot hold the heat. But, if they are more of them in the truck, then they may survive up to 72 hours. Also, during winter, only large purchases can survive. A lot of hatcheries can ship at least three chicks during summer.
Consider that the ch won't make it even if you put your efforts in ordering them. You may add a little chicken or two to your purchase to make sure that you get as many fowls as possible. When accidents happen to the package or developmental and health problems, you won't be in big trouble.
Local Garden and Farm Supply Stores
The ideal time to select chickens at your local garden and farm supply centers is during spring. Not only that you can choose them for a low price, but you can also assure that they have raised them properly. That way, they won't be lacking any days from them when you buy them for your backyard.
Also, this only means that they have already survived the most critical days of their life cycle. So, they will most likely extend their lifespan. Also, while shopping for chicks, you can also check out other supplies that you may need in raising chickens in your backyard. You have to know that you are in a one stop shop.
However, in these kinds of store, the sex and breed of the chicks will be limited. But, if the shop got its sources from hatcheries, then you will likely buy what you need. Also, they may have purchased a variety for their store. But, whatever happens, you should haggle for the price. However, when you order female chicks, they will come with surcharges.
When they source the chicks locally, they may not have authentic breeds. They may be mixed breeds. When you keep mixed chickens, it may be exciting and fun. Also, mixed breeds are more diverse than original ones. That way, they may protect themselves against diseases.
Furthermore, during spring, a lot of these shops may offer pullet. These are young hens which are younger than one year old. But, you should take note that they are more expensive than the usual chicks. However, they may save you more money from investing on brooder and other requirements to handle these little chickens.
Adoption
A lot of people may also bring home little chickens from the garden and farm supply centers, especially during Easter. Often, they think that they make great pets for the occasion. They prefer fowls than bunnies because rabbits may poop anywhere and they may grow bigger. Also, they need a lot of attention and supplies when you raise them.
The ideal time to check some classified sites online such as Craigslist is after Easter. You can also try to see your local newspaper's classified ads. Also, there are even social media groups and a team that may offer their pets for adoption, especially if they are changing hobbies.
Local Chicken Farm
If ever you know a farmer in your local market, then you can inquire where to get the specific breeds you want to buy. It is most likely that other farmers in your town who raise their hens and chicks. By doing so, you can save more because they may offer them at low prices. Also, some may supply fowls to other communities near you.
Conclusion
Raising chickens for the first time may be quite an overwhelming experience for you. Most likely, you do not have any idea how to grow them in your backyard, and you do not know what breeds you should buy. But, with the facts and tips suggested above, keeping and raising chickens won't be too hard anymore. All you need is to look for the top places to purchase them and grow them in your yard naturally.